TRAIL.WAYS Forward…
Oh the joy that fills us once again following two traditional Fall Camps, filled to capacity AND a Hosted Camp -Spiritual Retreat with Protected Harbor, Inc-also filled to capacity!
The Hosted experience was another exciting opportunity for Trailways to lead in the growing of respite opportunities as well as in adding some new community collaborations to the mix of services available.
Trailways Camp will be transitioning to a new primary partnership at the end of this year after nearly a decade of Trailways Camp launches with Goodwill Industries SW Florida, Inc. The impact of our sustained partnership has been exceptional.
Satisfaction ratings by campers, families/caregivers, staff and volunteers have averaged between 4.5 and 5.0 (on a 5 point scale) throughout the 26 overnight and 3 Day Camp sessions provided together. A desire to "come back" is universally expressed. The lives of about 500 camper participants have been touched by the staff and volunteers who have shared time, talent and hearts. And oh the joy we have had in our hearts as we leave Riverside Camp and Retreat Center each time a session ends. Thank you to the Goodwill Team-one and all!
Protected Harbor, Inc. will be our new Provider & Host partner. Our hope is a several year transition to a Legacy Partnership. Protected Harbor is a faith based, 501 (c)(3) organization with a vision to grow residential and support services capacity for families in need of these alternatives. Trailways Camp brings a perfect mission alignment as a respite opportunity for those seeking and/or waiting for residential and other support services. The waiting lines and times are long in our community. We will continue to partner with Riverside Camp & Retreat Center!!
So this is where we have come to date. On the journey forward we will continue to reach out, visiting, and talking with other service providing organizations in SW Florida. We will be asking how we can be of help in bringing resources together. to better serve in a collaborative way. We will continue to seek opportunities for Hosted camp experiences.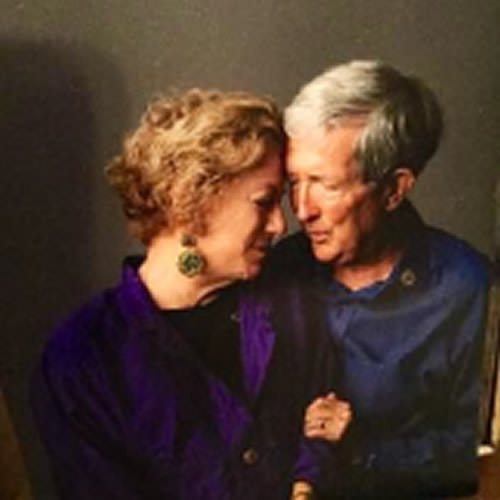 Guess Who Will be Coming to 22/23 Trailways Camps?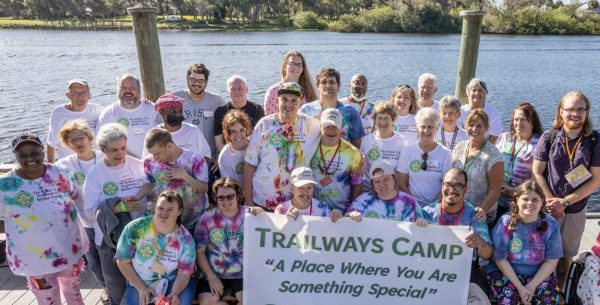 Thank you Grampy's Charities for your continued encouragement and support for Trailways Campers. Jim and Jonatha Castle are supporters of families and those providing caregiving support for adults with special needs. Visit https://www.grampys.org to read more about this amazing team leading an amazing
Did you know that we have a You Tube Channel? If you subscribe you will always be able to be aware of any new video's from the Camps or "I AM SPECIAL" events. RVM BGM Subscribe today.
EVENT & CAMP HAPPENINGS–Sharing our gifts and talents
Zonta Club of Sanibel-Captiva, Community Collection Day….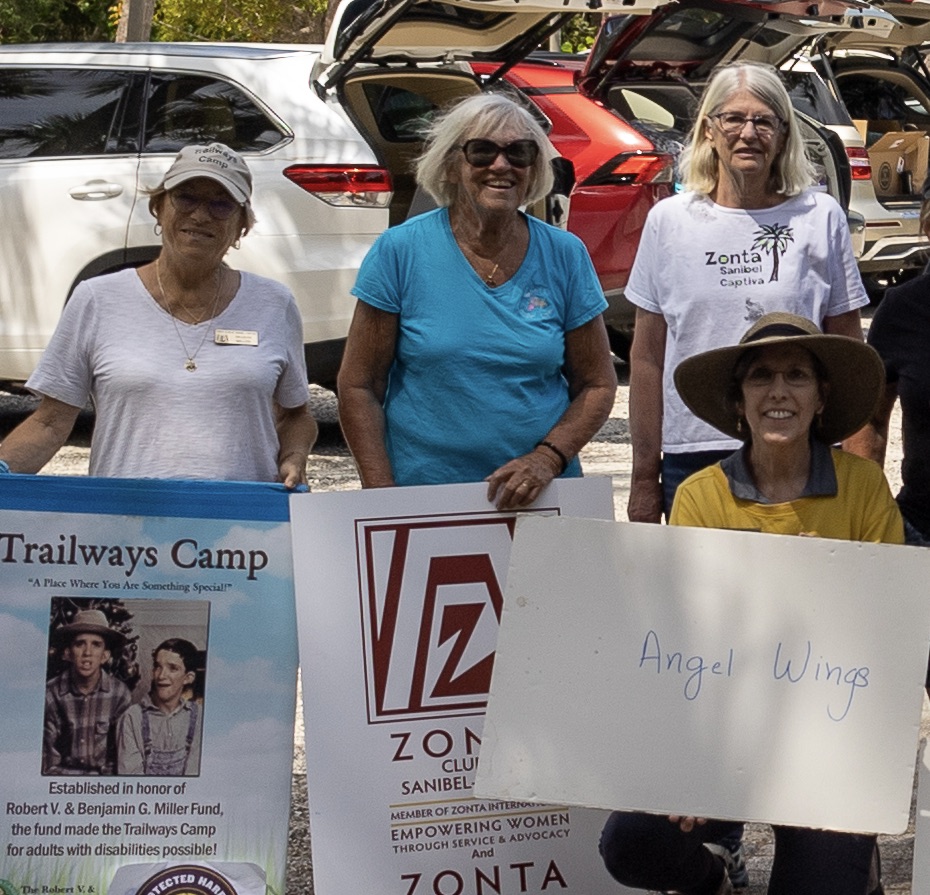 Trailways Camp was invited to participate in this local Zonta Club event again this Fall. It was an opportunity for all to check garages, storage places, in home and outside, winnow household items, and provide a gift to be repurposed by community service providers helping people in need. Thank you so much Zonta Club members for the opportunity to participate and to all those who came by to donate fishing poles, paper goods, linens, arts & crafts supplies, first aid supplies, benches and other goods needed at Trailways Camps. We are grateful for this wonderful community.
Benjamin G. Miller "Joyful Spirit Award"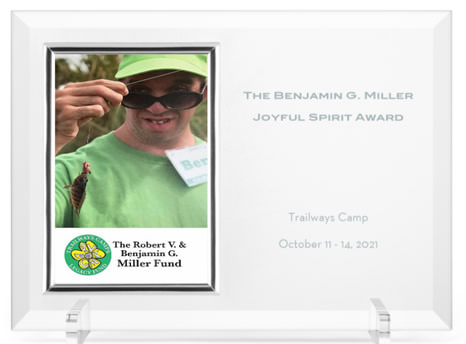 A tradition that is part of each Trailways Camp Session is the Awards Assembly at which campers themselves are recognized for the gifts they bring, the achievements reached, and the most remarkable character reflections visible during the gathering. This tradition is carried forward to the Annual "I AM SPECIAL" Camper Reunion & Birth Day event. There are four Founders Awards—one of which has been The Birth Day Closest to that of Benjamin Miller. Upon thoughtful and spiritual reflection we made the decision to release this award, and to establish a new award going forward.
Benjamin lived each day as a joyful spirit. Disappointments or frustrations on a day never carried forward to another day. He loved His Lord and loved each person created by Him. Loving others, serving others, participating in relationships with others were at the core of who he was. This new award recognizes these exceptional characteristics in a participating camper. The new award was presented by the Founders to Julie Lyle on October 15, to Janee Combee on October 21, and Glen Stilley on November 18. Thank you to each one for the opportunity to celebrate you!